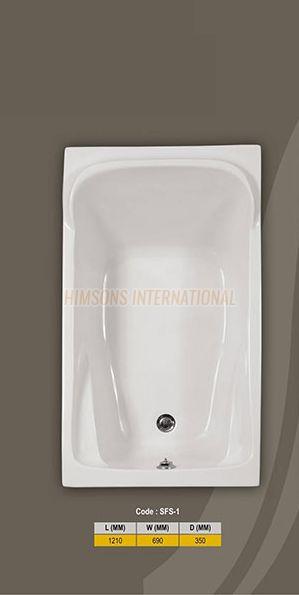 There are certainly good reasons behind the popularity of acrylic bathtubs in the market. It's comfortable to lie in the water of an acrylic bathtub. It requires low maintenance, feels warm, and light in weight. And, the best part is it is affordable.
This article aims to bring your attention to why you should buy an acrylic bathtub and what are the necessary things you need to consider before making a buy.
Acrylic bathtub: what is it?
These are prepared with acrylic sheets that are formed with a vacuum. Often acrylic tubs are reinforced with the material of fiberglass to offer an added durability to this material. As the material acrylic is naturally soft and flexible, it is the right material for making a wide range of bathtub sizes and shapes.
Acrylic material is light in weight and hence it can easily get installed at any place of the home. Acrylic made bathtubs are easy to repair and prevent damage. Thus, acrylic bathtubs exporter companies are doing great business across the world.
Benefits of Acrylic Bathtubs:
• Cost-effective
• Crack-resistant
• Easy to repair
• Comfortable, nonporous, and smooth-surfaced
• Preserves heat and thus when dry becomes warm at the room temperature
• Available in multiple colors, sizes, shapes, and offer different configuration options
• Light in weight
• Generally long-lasting but offers better durability when reinforced with fiberglass
• Easy to clean
• Easy to maintain
One common question that is asked by many consumers to the acrylic bathtub exporters is 'Are acrylic bathtubs durable?'
Well, this question can better be modified as to how long the acrylic tubs can last?
Many of today's modern technology acrylic tubs are produced by reinforcing with fiberglass. This may higher its price a bit, but what matters to the consumers is if their investment is worth of value or not.
Acrylic is overall a durable material and it normally tends to sustain for years. And, if your bathtub gets any scratches, you can easily repair them, and repairing does not take a big investment.
Sizes and shapes of acrylic bathtubs: All the credits go to the flexibility of acrylic material. These are available in almost every virtual variety of sizes and shapes, along with every imaginable one.
For example – drop in bathtubs can be easily updated with desirable surrounds, corner tubs can easily make the bathroom look spacious, and clawfoot tubs make high-style options. Even you can also opt for bathtubs with jet facilities for water, air, or a combination of both. These will allow you to enjoy the invigorating bathing experience.
Maintenance of the acrylic bathtubs: Acrylic bathtubs are easy to clean and thus require low maintenance. But, using some special cleaning products can extend its lifespan more.
Remember to clean the bathtubs with mild and non-abrasive cleaning agents only and avoid using scratching materials. During the time of cleansing, fill the tub with hot water and mix dishwashing liquids in it. Allow it to sit for a couple of minutes, and finally wipe with a sponge or soft fabric. The exterior of the tub can easily be cleaned using dish soaps.Buy the desired pieces of acrylic bathtubs from the best exporter in town.